Totally skipped out on Tuesday Tunes yesterday! I'm so sorry but it was just a horribly lazy day and by the time I remembered that I needed to do it. It was already super late!
So a big slap on the wrist to me for not doing it.
Anywho.
My pick for Wish List Wednesday is going to be......
Darkness Becomes Her by Kelly Keaton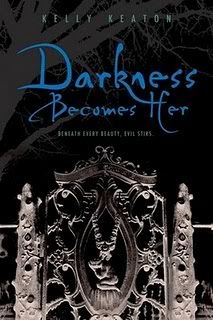 Reading level: Young Adult
Hardcover: 288 pages
Publisher: Simon Pulse (February 22, 2011)
Language: English
Ari can't help feeling lost and alone. With teal eyes and freakish silver hair that can't be changed or destroyed, Ari has always stood out. And after growing up in foster care, she longs for some understanding of where she came from and who she is.
Her search for answers uncovers just one message from her long dead mother: Run. Ari can sense that someone, or something, is getting closer than they should. But it's impossible to protect herself when she doesn't know what she's running from or why she is being pursued.
She knows only one thing: she must return to her birthplace of New 2, the lush rebuilt city of New Orleans. Upon arriving, she discovers that New 2 is very...different. Here, Ari is seemingly normal. But every creature she encounters, no matter how deadly or horrifying, is afraid of her.
Ari won't stop until she knows why. But some truths are too haunting, too terrifying, to ever be revealed.
The cover of this book is what caught my eye!
This is Kelly Keaton's debut novel so I'm excited to see what she has to over!
I'm currently reading Awakened by P.C. and Kristin Cast but tomorrow I'm going to be posting one review Vlog for Last Sacrifice by Richelle Mead and a review for Daughter of Darkness by V.C. Andrews! So be on the lookout for that!
See ya tomorrow!