★★★★★★★★★★★★★★★★★★★★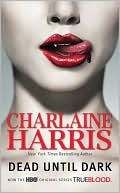 Paperback: 336 pages
Publisher: Ace Trade; Reprint edition (March 2, 2010)
Language: English
Rating:
Sookie Stackhouse is a small-time cocktail waitress in small-town Louisiana. She's quiet, keeps to herself, and doesn't get out much. Not because she's not pretty. She is. It's just that, well, Sookie has this sort of "disability." She can read minds. And that doesn't make her too dateable. And then along comes Bill. He's tall, dark, handsome -- and Sookie can't hear a word he's thinking. He's exactly the kind of guy she's been waiting for all her life.
But Bill has a disability of his own: he's a vampire with a bad reputation. He hangs out with a seriously creepy crowd, all suspected of -- big surprise -- murder. And when one of Sookie's co-workers is killed, she fears she's next.
★★★★★★★★★★★★★★★★★★★★
Ok. Simply put: I love this book! Really I do! lol Charlaine Harris is an amazing writer and she knows exactly how to keep your attention from the start of the book until the finish! I've been reading vampire love stories for a while now and I will admit that I was hooked on Twilight almost as much as everyone else out there but as soon as the movie came out and it blew up for some reason I felt like I needed to move on and find another series of books to attach myself too! So one night while I'm channel surfing I stumble across a show on HBO called "True Blood". And at first the accents drove me nuts but by the fourth episode I was hooked! After the season ended I decided that I really need to check out the actual book *Dead Until Dark* by Charliane Harris.
In the Southern Vampire Mysteries Sookie Stackhouse is the main character/heroine in the series and it's her point of view that you're reading the books through. Sookie is a strong, young, and unique southern belle. I say unique b/c Sookie has been blessed *or in her words cursed* with the ability to hear others thoughts. You know Telepathy!? The poor girl has lived her whole life struggling with trying to control her ability and be as normal as possible.
Dead Until Dark opens up with a 25 year old Sookie working a the local bar in her hometown of Bon Temps. When in walks the first vampire that has ever stepped foot inside of her tiny hole in the wall town in Northern Louisiana. In Sookie's world, everyone knows that Vampires exist because two years before there was this thing called the "Great Revelation". That was when vampires willingly came out into the open to humans to let them know that they existed and didn't want to live in the shadows anymore. This was all possible b/c the vampires claimed that they no longer needed to feed off of everyday ordinary humans b/c of the newly invented Japanese Synthetic Blood.
So, Sookie is of course ecstatic to meet her very first vampire and little does she know that this vampire is going to become apart of her every day life very soon. Oh, and of course there's some people who are none to happy about a vampire being in Bon Temps. But being the girl that she is Sookie doesn't pay any attention and goes out of her way to help the mysterious vampire in every way that she can.
This book has so much more that I could write about for hours and hours but I would never do it justice! If you like mysteries. Then this book is for you. If you like to read a good love story. Again this story is for you! And if you love a good laugh then what are you waiting for! I don't know how she does it but Charlaine Harris will have you angry one minute, "oohing" and "awing" the next and before you have time to think about it you'll be laughing your butt off at some of the most awesome one liners you have ever heard!
Oh and for a fun fact: The HBO show was named "True Blood" because that was one of the name brands of synthetic blood for the vamps in the book! Also the book cover with the book summery on my blog is the shows ad. This is the actual book cover: