Last night I was surfing around the web looking at reviews for Awakened, the latest House of Night novel, and I happened to stumble upon this
interview
.
Oh. Em. Gee.
I totally love the fact that they are True Blood fans.
"Sookeh" is my hero!
Even if she's still in love with "Beel" instead of that hottie viking named Eric.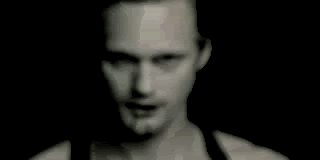 yum!
Anyways, back on subject.
This part of the interview really stood out to me and had me Loling
It all started with this comment:
"PCC:
I don't see them as teens; I see them as characters. There's a plot, and bad things happen. It's kind of like when you watch
Buffy
— Buffy was a teenager, but when you look over the series, Buffy dealt with all this adult stuff. I think it's the same way with my series. I don't just look at them as 16, 17, 18, 19-year-olds. I look at them as real human beings who are dealing with very hard issues. I don't use a gauge. I send it to Kristin, and then she writes stuff in the columns like, "No, Phyllis. Just, no." [
Laughs
] There was lots of that in this book, especially when you get to the scenes with the White Bull [Darkness personified] and Neferet. You wouldn't believe all the stuff that was cut out of there."
and then went to this:
"That was one of things I wanted to talk with you about. Again, without spoiling it for readers, I was like, Did what I think just happen between those two really just happen?
PCC:
What I'm hoping is all the adults get it, but the 14 to 17-year-olds won't. I think that they're gonna get that she worshipped him or something. But had you read the first draft, honey, there is
noooo
question.
KC:
You would have barfed all over yourself. [
Both laugh
] I'm easily embarrassed when reading, and I just closed my eyes and twisted my body. [
P.C. and EW still laughing
] I don't think it's funny.
PCC:
It was well-written, though, okay. It was well-written.
KC
: It was well-written. I'm blushing right now.
PCC:
[
Still laughing
] Even my editor, she's like, "It's a shame that we have to cut this and tone this down, because it's some beautiful writing." I knew that when I wrote it. I gave Kristin and my editor both a heads-up. I said, "I am just gonna write this and tell the story, and I know I'm gonna have to go in and back off." But I'd rather do that and push the envelope as hard as I can and then have them tell me, "Oh, Phyllis, no, no," then have it be less than it could be."
I plan on picking this book up later on today but I'm sooooo curious about this "lovin on a white bull" deal that I want to go read all of the spoilers!
Part of me wishes that they would do a more "adult" book just so I can read everything that they had to cut out LOL
It's a great interview and Kristin even mentions that she's working on a HoN clothing line as well writing her first novel inspired by the short story she wrote titled "Above". Which was apart of a collection of vampire love stories entitled
Kisses from Hell.
I'm actually looking forward to that because I've always been curious about who writes what in the HoN books!
I can't wait to get this book into my hands! Esp since we're supposed to get a friggin blizzard tomorrow night!
Ugh, I *hate* snow with a passion. lol
Anywho, you can read the rest of the interviews
HERE
and I will be back tomorrow with my take on Daughter of Darkness by VC Andrews and, of course, Tuesday Tunes!
Happy Monday peeps! I hope you have a wonderful start to the week!