Even though this song doesn't really remind me of anything I'm currently reading (lol). I just had to share it for Tuesday Tunes!
Back in the day I was the BIGGEST Britney Spears fan. Still am! So, of course when I heard her new song I went total ape shiz. I love it! I don't care if people think she sings in auto tune too much or that she's crazy. I love love this girl! haha
And I really love this song! It's been my cleaning song for the past few days! So if you haven't heard it yet please check it out!
"Hold it Against Me" by Britney Spears
That beat..oh the beat! It gets me fist pumping every time. =P
Anywho...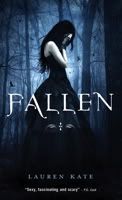 Now for book related news. I started Fallen by Lauren Kate yesterday and so far.... I am really into this book! Especially after Awakened by PC & Kristin Cast left such a bad taste in my mouth. This is something *I* needed. Ang will be around here tomorrow to do wishlist Wednesday so be on the look out for that! Also on Friday, Kim from Awakened by Ednah Walters will be here! It's our very first character interview! So, we're stoked about that!
Happy Tuesday peeps!