Dear Monday:

I really really don't like you.

Sincerely,

Brandi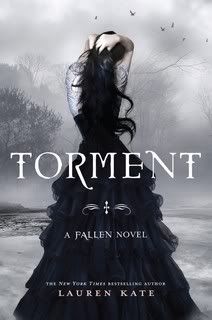 Lol. Today has been one of "those" days! I spent half of the morning freezing my butt off b/c our heater decided to start acting crazy. Thankfully we were able to get the repair man out here asap and now I'm all toasty and comfy again. Oh...and....I finally have my hands on TORMENT! I can not wait to devour this book! I practically stalked my mailman today waiting for him to put the "brown package" into my mailbox. Of course, as soon as I saw him shut the lid I was dashing outside like a mad woman and doing my fan girl dance. Lucky for me my mailman has seen me spaz outside before for no apparent reason. So, he's used to it by now! I love book mail!
Book mail is seriously the best mail!
Ah.
Love.
It.
Right now we have a total of two people (which is AWESOME by the way lol ty!) that have entered. So the odds are looking pretty darn good! lol. Also, don't forget that tomorrow Becca Fitzpatrick is going to be doing a chat hosted by
FallenArchangel
and
MundieMoms
. (You can't see me but I'm doing my fan girl dance over that for like...the...100th?...101th? time since I first found out about it! lol) So be there or be square!