Brandi and Angella were lucky enough to sit down with Kim from Awakened and have a nice....well kind of nice conversation about what's going on with her and more importantly Bran..cough cough I mean the other guardians we all know and love! lol
Hiya Kim! Thanks for stopping by our little blog! How have you been?
Kim (sits, crosses her legs and cocks her brow, a cynical smile on her lips):
Fine...considering everything

.
(Brandi shifts uncomfortably while Angella quirks an eyebrow back and says)
Oh my...Guardian troubles?
Kim (studies the two girls and sweeps a wisp of blonde hair from her forehead, her smile disappearing):
How much to tell them? Human are so annoyingly inquisitive.
"Guardians don't have issues. We've been taking care of you since the beginning of time. We know what to do, when to do it and how to do it. Things are changing, that's all. " (brushes off an imaginary speck off her white pants and studies her white-tipped acrylic nails) "The line between demons and us is blurring, and that's never a good thing. "
(Angella ponders about what Kim has just said while Brandi frowns and and quietly says)
No that's not a good thing at all. You must be under a lot of stress at the moment....are the others coping well with the added pressure? Are things still tense between you and Lil?
(Which puts a smirk on Angella's face because everyone knows about Kim cheating during the sword fight with Lil... competitive much?)
Kim (shrugs):
We have ways of dealing with stress. Sykes gets a new girlfriend (rolls her eyes). Remy cooks. Izzy writes poetry. I...

(
waves a hand to indicate her designer outfit and boots)
..
.shop. And for the record, things were never tense between us. Lil is impulsive and softhearted, and has a lot to learn a bout us and how we do things, who to trust and who to keep at a distance. Guardians don't have the luxury to be sentimental.
(Angella laughs)
Lil sounds a lot like Brandi! Love the boots by the way. You may be hard to get along with but you have an excellent fashion sense
.
(Brandi is beyond horrified at this point and is determined to make it through this interview alive...)
"
So Kim. How is your guardian training going? Are you any closer to being able to go out on missions alone as a group or are the older Guardians still holding you back?"
Kim (studies Angella, the corners of her lips lifting in a half-smile ):
*I like this human, and that's not something I say often.*
I think people misunderstand me, Angella. I'm very easy to get along with, uh, as long as we do things my way.
(Cocks her eyebrow at Brandi, who stares at her slaw jawed)
.
Have I shocked you? I'm sure you think I'm being arrogant, but I see things a lot more clearly than most Guardians. I wish they'd stop fighting me and just follow my example. As for training, we never stop . It's the way we stay in shape and improve our skills. And yes, we're hunting now. The old geezers are still in control, but we get to go out on our own and vanquish some pesky demons
(smiles as she recalls her last kill).
(
Brandi straightens up and smiles)
"
Vanquishing Demons? Sounds fun!"
While Angella pipes up and says:
"
Ok Kim enough of this Guardian talk. Let's get to know you a little...Who is your favorite designer?
Kim:
Hmm, how shall I put this? I like pretty things and I tend to shop according to my mood. I like Louboutin boots and I got this
(lifts her shiny, calfskin handbag)
Prada Vernice a few days ago, but when it comes to clothes, I like to be comfortable. I might wear a Valentino dress today and kick back in Elie Tahari top and Misty legging jeans.
Brandi looks at Kim dumbfounded
Angella smirks and says:
"
Eh, Prada Vernice...not bad I guess. I'm more of a Chanel gal, myself. So when you're not vanquishing demons, training or shopping
(rolls eyes)
How do you spend your free time? Or do you even have any free time?"
Kim (purses her lips
):
I love good food. Between school, training and hunting, Izzy and I teleport to some town and check out the local cuisine a nice

restaurant

. (She smiles). Or we just go to Remy's. He's an amazing cook.
(Brandi is still amazed by all of the names Kim easily rolls off her tongue and is ,of course, starving now that she's mentioned food!)
Well Kim, Thank you so much for stopping by our blog! I hope we haven't wasted too much of your time! We're both looking forward to seeing what you and the rest of the guys are up too in the next book! Any hints that you would like to share?
(Brandi asked hopefully)
Angella is distracted with Kim's boots AGAIN but has the decency to add:
"Oh yeah thanks Kim! I hope you're cooperating with Ednah! I'm not sure how she puts up with you rattling off in her brain most days. That would totally drive me crazy!"
Brandi (rolls eyes)
"Oh, Angella! Kim just ignore her. She's about as blunt as they come."
(Kind of like Kim. Brandi thinks to herself...oh goodness she's just asking to have her brain zapped)
Kim (smiles at Brandi):
It was no problem
.
(lifts her chin and cocks an eyebrow at Angella)
I don't rattle. I just suggest stuff. As for Ednah, she can't predict what's going to happen next, but we have a new group of demons that's keeping us busy. You'll know soon enough how we deal with them. I've got to go. (teleports in a burst of tiny, sparkly lights)
★★★★★★★★★★★★★★★★★★★★
We want to give a big big big thank you to Kim for stopping by our little hole in the wall! And to celebrate our very first character interview we decided we should do our very first GIVEAWAY!
Just what are we going to be giving away ...umm...how about a pair of Guardian Amulet Inspired Earrings!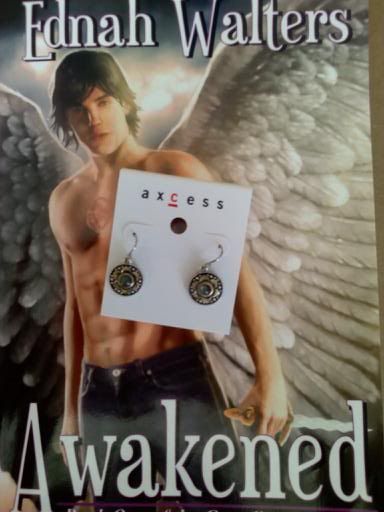 How cute are they! I could totally see Lil (even Kim =D) rocking a pair of those! Now you can too!
Since we're new to this our first giveaway is just going to be open to the US/Canada only.
Each entry is worth one comment and please provide a valid email address with each comment. So if you win we can let you know and get your prize to you asap!
This giveaway will start on Jan. 21st and End on Jan. 31st.
Winner will be chosen via Random.org
Now for the fun stuff!
All you have to do is post a comment below and let us know:
Which character you would love to do an interview with?
That's it! Easy Peasy!
Also if you would like to earn some additional entries you can do some of the following:
(Be sure to do a separate comment for each extra entry please!)
1
. "Like" HBookers on FB:
HERE
+1
(Please leave your FB name in the comment)
2. Follow HBookers on Google Friend Connect +1
(Please leave your GFC name in comment)
3
. Add Ednah Walters FB:
HERE
+1
(Please leave your FB name in the comment)
4
. Join the Official Fan Page of Ednah Walters:
HERE
+1
(Please leave your FB name in the comment)
5
. Follow Ednah's Blog:
HERE
+1
(Please leave your GFC name in comment)
That's a total of SIX chances to win some really cool Guardian inspired jewelery! And just in case your were wondering what type of metal they are made of its surgical steal. The picture really doesn't do them justice! They are absolutely gorgeous in person! Good Luck!