"It is November 11th, known here in the U.S. as Veteran's Day, formerly Armistice Day to remember the end of WWI but expanded to honor all veterans who have fought for their country, so …
Do you read war stories? Fictional ones? Histories?"
I've read a few war stories. The one that sticks out the most is
Peral Harbor, 1941by Nancy Holder
.
It's a short novel about a young girl named Bekah who has just finished up her nurses training is San Francisco, CA. Bekah, like most 20 year olds, is ready to go out in to the world to begin her life, but finds herself heading back to her past in Hawaii. Through out the book you find out that Bekah was previously engaged but lost her fiancée, David, in a terrible fire. She feels obligated to go back to the island to marry his twin brother, Ian. Fate has other plans...She ends up meeting a cocky Naval Ensign, Scott DeAngelo. At first Bekah is not amused by his "charm" but eventually he grows on her and she finds herself falling for him. Of course all of this leads up to the morning of December 7th, 1941. The ending of this book still haunts me because Nancy Holder paints such a vivid image you feel the loss,anger,and pain that happened on that important day in our history. I know it sounds like a girly book but honestly it's an excellent quick read and I highly recommend it!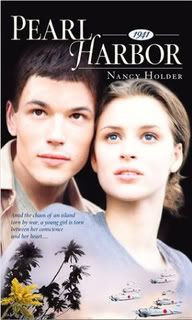 Reading level: Ages 9-12
Mass Market Paperback: 208 pages
Publisher: Simon Pulse (May 1, 2001)
Product Dimensions: 6.8 x 4.2 x 0.6 inches