The biggest thing on my wish list at the moment is: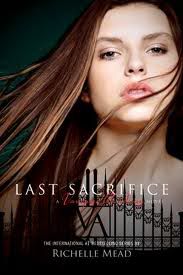 Murder. Love. Jealousy. And the ultimate sacrifice. Now, with Rose on trial for her life and Lissa first in line for the Royal Throne, nothing will ever be the same between them.
OH GOODNESS!
I can not wait to get my hands on this book! It was pure torture having to wait an entire year for this book to come out and now I can finally see who Rose will choose!
I'm a Adrian fan myself but I still have mad love for Dimitri! So I'll be happy either way lol
So who are you Team Adrian or Team Dimitri?
And how bummed are you that this is the last book in the series?
Lucky for us The Last Sacrifice by Rachelle Mead came out YESTERDAY!
So go pick up a copy, read it, and we'll discuss the like/dislikes of the Final Vampire Academy book
(from Roses POV)
The Last Sacrifice