Title: Hush, Hush
Author: Becca Fitzpatrick
Length: 391 pgs
As I've stated before I love me some paranormal romances! Vampires are my "thang" but thanks to Becca Fitzpatrick I can add bad boy fallen angels to the list!
Never in my life have I read a book about fallen angels...well there is the Blue Blood series but those fallen angels are actually vampires... so that doesn't count right! lol I'll just say the whole theme is (well was) totally new to me and my little brain.
In the end I decided that I LOVED IT!
The cover art was what first peaked my interest and by chapter 2 I was hooked! Patch, said fallen angel, is the biggest butthead but Becca is such a good writer that eventually you can't get enough of him (Not quite Damon Salvatore obsession for me yet, BUT way beyond Edward Cullen/Twihard obsession...seriously you'll be like Edward who?? Sparkle what?) Especially because in my mind Patch is Steven Strait *insert drool*
Thank you God for blessing the earth with this man candy of hotness aka Steven Strait.
...Jk Jk...
...maybe...
=P
Anyways, Nora is your typical 16 year old high school student. Well almost, you find out at the beginning that she's still healing from the sudden death of her father. You also learn about some of the struggles that she and her mother are having trying to cope and start a new life after something so tragic happens.
Nora is definitely the brainy/quiet type with the bestest best friend of them all, Vee. I was so jealous reading this book because even though Vee is more of a back ground character you figure out really quick that she is the best friend a girl could ever ask for...I've always wanted to have a friend like that but unfortunately in real life those types of relationships are few and far between. Is this a pity party?? I think not! On with the review!
Nora, by divine intervention *wink wink*, ends up getting Patch as her biology partner. He's horrible. Just horrible to her haha. Their very first assignment is to find out a few facts about each other and of course he can read Nora like an open book. Nora on the other hand can not figure anything out about Mr. Patch. Other than he's a PIA and dead sexy...of course! Nora being the smart gal that she is comes up with a variety of ways to get Patch to open up...this girl is serious about her A's...and much to her displeasure Patch is more confusing and shrouded in secrecy than the seven wonders of the world.
Probably has to do with the fact that he's a fallen angel...hellllooo...which Nora soon discovers after almost getting killed two or three times during the course of the book. Here's the kicker...is it Patch that's trying to kill Nora? Maybe...maybe not! You'll have to read it to find out!
Personal Thoughts: Simply put...I loved this book. It was an easy read because it kept me interested from the first few pages all the way to the end. Definitely left me wanting more and I really could not get enough of the characters. Nora is a little naive but good at heart. While Vee is down right hilarious (she had some fantastic one liners!). Patch, of course, is a mystery to everyone. I personally hated him in the beginning but by then end I loved his character. He's very complex that one! Crescendo is the next book in the series and let me tell you...Becca Fitzpatrick knows how to take a girl on a million different twist and turns while still have you begging for more! Loved the book. Love love love Becca Fitzpatrick (HookBookers attended a twitter party and we got to ask her a few questions...she is sooo nice and down to earth!) And I can't wait to see how everything turns out in the final book Tempest which comes out fall of next year! (Hopefully!!!)
Now it's time for the cover/description which I can't get over! Seeing it online is one thing but seeing it in person...it's gorgeous!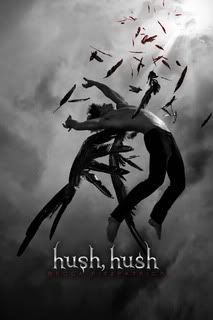 Romance was not part of Nora Grey's plan. She's never been particularly attracted to the boys at her school, no matter how hard her best friend, Vee, pushes them at her. Not until Patch comes along. With his easy smile and eyes that seem to see inside her, Patch draws Nora to him against her better judgment.
But after a series of terrifying encounters, Nora's not sure whom to trust. Patch seems to be everywhere she is and seems to know more about her than her closest friends. She can't decide whether she should fall into his arms or run and hide. And when she tries to seek some answers, she finds herself near a truth that is way more unsettling than anything Patch makes her feel.
For she is right in the middle of an ancient battle between the immortal and those who have fallen -- and, when it comes to choosing sides, the wrong choice will cost Nora her life.