This week my pick for Wish List Wednesday is: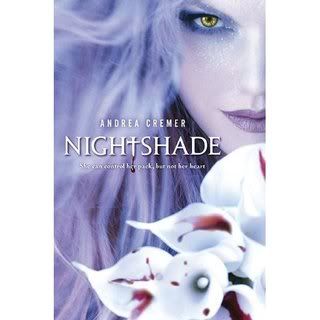 I've heard nothing but stellar reviews for this novel!
The cover is absolutely gorgeous but what really caught my eye was this line:
"She can control her pack but not her heart"
Eeep! Totally gives me a Blood and Chocolate flash back! You know the awesome-nest werewolf novel to date (IMO) wrote by the lovely Annette Curtis Klause!
Anyways here's a snippet from Nightshade by Andrea Cremer
"While other teenage girls daydream about boys, Calla Tor imagines ripping out her enemies' throats. And she wouldn't have it any other way. Calla was born a warrior and on her eighteenth-birthday she'll become the alpha female of the next generation of Guardian wolves. But Calla's predestined path veers off course the moment she saves the life of a wayward hiker, a boy her own age. This human boy's secret will turn the young pack's world upside down and forever alter the outcome of the centuries-old Witches' War that surrounds them all."
You can visit the books website HERE
Atlas, another love triangle is born! I love it lol but I will say I find it highly annoying that every paranormal YA romance is constantly compared to the Twilight Saga...I mean is that nessicary? Yes I went through my fan girl obsession with Twight but I'm over it now lol it's old news to me and while I enjoyed the books they are definitely not in my top ten fav series of all time! Again this is just my opinion LOL not even sure why I'm raving about that but oh well! I'm looking forward to reading this book but I will admit I need to read the ten other books that are patiently waiting on my book shelf before I can even think about purchasing this one lol. I think I have an addiction to fiction!