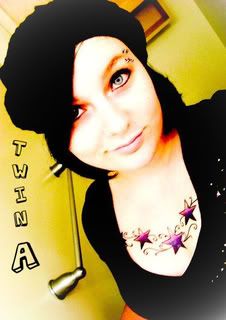 Hi, I'm Angella aka Angie or Twin A (: Married for 4 years, Navy wife of 3, Mommy of 2 little girls, Brianna, 3 & Haylee, 2. Full time photographer & student. wow, I just realized I have a very busy life lol anyways, I am a YA fiend, I love reading in general but I have a serious fiction addiction. I think reading is contageous & a good way for the mind to grow. I believe a good stress reliever is getting lost in "book world." Granted you may be laughing in public, or yelling at your book looking like a weirdo, haha (: Anyways, I am a purple-aholic! I love to cook & do crafty things with food. I would consider myself a crafty person, i reckon. I am very family/friend oriented. Thats pretty much it =P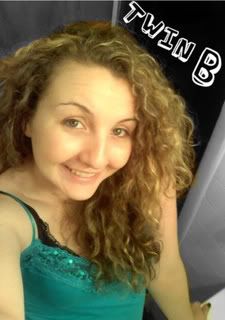 Hiya! The names Brandi aka TwinB. I'm a stay at home mommy to two wonderful little monsters Noah (4) and Bella (4months). I've been married to my high school sweetie for five years now and at the tender age of 23 I don't think life can get much better! Well if Damon Salvatore just happened to magically come to life and show up on my door step... then life really couldn't get much better....unless he just happened to bring Patch Cipriano along with him....*shrudders* Then I would most definitely have it made! My poor hubby puts up with my fiction addiction and has more than once been bitten by the paranormal bug and read a few of my favorite series! Reading has always been a big part of my life and I'm so happy to have my twin to share my interest with!
We first met in middle school and through out the years we've kept in touch. Especially, when one of us was reading something we thought the other would enjoy. Enter... House of Night.
Marked by PC Cast and Kristin Cast was the very first book the Ang and I ever dicussed together.Hence our nicknames for each other (Twin A and Twin B) ...some say it was destiny...all I really know is that is was
...Legen...
...wait for it...
...DARY!
We love talking to each other about our books. So, we (as in Angie haha) decided we should start our own book club. As most of you know every book club needs a catchy name. We sucked royally at coming up names... really we thought about Fiction Addiction, Babes with Books, and tons of other very common played out names.
After a while of shooting names back and forth we started to get playful and I (Brandi =P) suggested Book Hookers. Angie went to write a response, had a dyslexic moment, and typed Hook Bookers. And here we are!
We're still new to the blogging world but we're starting to figure things out! So please keep checking in with us to see what's going on in our little piece of the internet and hopefully we can share some new things or some laughs with you!
Thanks for stopping by!